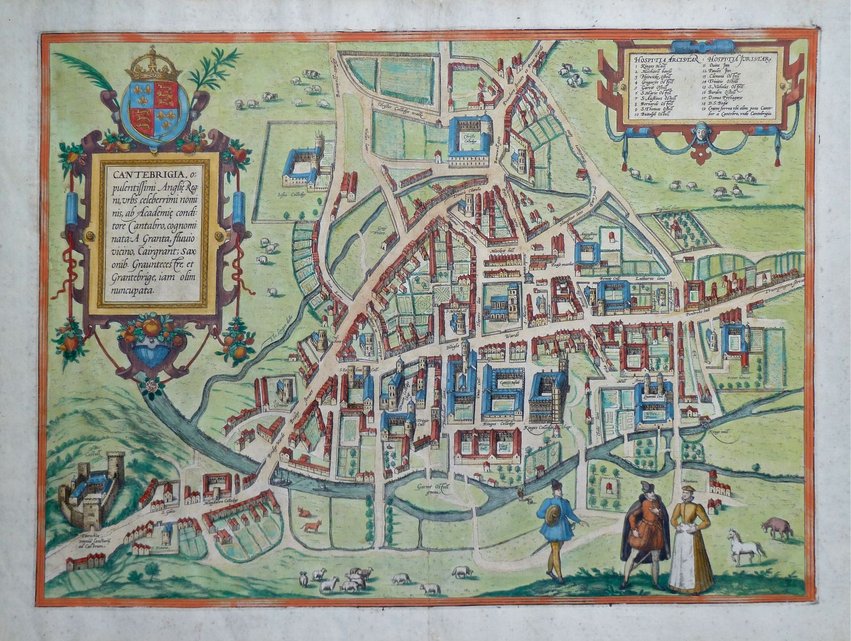 Cambridge c. 1575
CANTEBRIGIA, opulentissimi Angliae Regni, urbs celeberrimi nominis, ab Academiae conditore Cantabro, cognominata: A Granta, fluvio vicino, Cairgrant; saxonib. Grauntecestre, et Grantebridge, iam olim nuncapata.

Copper engraved plan of Cambridge published in Civitates Orbis Terrarum. Produced by Frans Hogenburg, and Georg Hofnagel, the work was intended to accompany Ortelius's work Theatrum Orbis Terrartum. The work was edited by Georg Braun and the six volumes were issued between 1572 and 1618 and, on completion, contained over 500 town plans, the Cambridge plan appearing in volume 2 in 1575. Originally issued with Latin text, later issues included German and French translations. The plates were acquired by Jan Jansson who erased the foreground figures whose dress had become dated and published them from 1652. Publication in various forms continued by Jansson's heirs, Frederick de Wit, Pieter van der Aa, and, finally, c.1750, by Cornelius Mortier and Johannes Covens.

Very good example in old hand colour from the first state.

Size:
45x33
(Centimetres)
Ref: m6006
£750